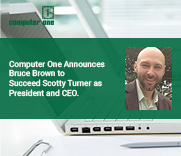 Lafayette, LA . (Jan. 27, 2017 ) – Computer One, Inc. is thrilled to announce that's its Board of Directors has approved the decision for Bruce Brown to succeed Scotty Turner as President and CEO effective January 15th, 2017. Scotty Turner will continue in a consultative position as well as majority owner and Chairman of the Board of Directors.
What every small business owner must know about protecting and preserving their company's critical data and computer systems. If you depend on your computer network to run your business, this is one report you do not want to overlook!
Industry Focused
Computer One serves a variety of industries across the Gulf Coast from New Orleans to Houston. Our team has experience working in classrooms, dental offices, hospitals, legal offices, government institutions and more.
Data security is a vital segment for government office technology in that governments are more susceptible than private corporations to hacks or breaches.

Read More

Computer one excels in providing healthcare professionals with dependable and groundbreaking technologies.

Read More
How Can We Help?
only 5 minutes complete report
free network audit consultation
we'd love to help send them our way